Mobile Banner Advertising Services
Get your message banner blasted across some of the top mobile sites on the web to millions of viewers! This is the latest mobile marketing trend and with our mobile advertising network we can put you in front of potential consumers that are interested in your project or message.
| Brief 
Overview
Mobile Banner Advertising is one of the fastest growing segments of advertising and with over 2,000+ publishers at your disposal; the ability to reach your target audience on their handheld device has never been greater.
Mobile Banner Advertising is continuing to show tremendous results for national brands and as technology has increased, an increasing number of local businesses have tapped into this powerful channel to reach their target audience on a local level.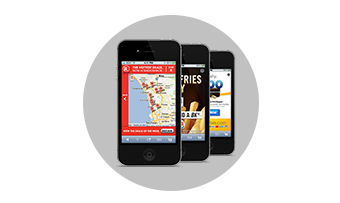 | 
Mobile vs Web Advertising
Mobile Banner Advertising is very similar in concept to traditional Web Banner Advertising; however, Mobile Banners typically deliver 2 to 5 times the interaction rates as online banners because there is usually only a single mobile advertisement per mobile page.
| 
Quick Facts
• 5+ Billion Mobile Ad Impressions Per Month
• 2,000+ Publishers
• National, Regional, Local & Zip-Code Targeting
• Broad Platform Support: WAP, iPhone, Android, Blackberry, Tablet
| 
Popular Uses
• Click
• Retail Promotions
• Mobile Video (:30 Seconds)
• Mobile Survey
• Fund Raising
| 
Target Specific Categories
• Men
• Women
• Health
• Money
• Technology
• Finance
• Lifestyle
• Local Search
• News & Information
• Sports
• Social
• Weather
• Automotive
• Travel
• Hispanic
• Entertainment